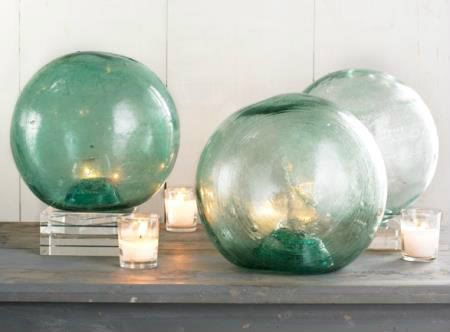 Antique fish floats are among some of the things I collect. I love glass and especially these pretty glass balls. They are sturdy and unique in their shape. What it is that attracts me I can't explain but they have character they have survived the ocean and drifted back to shore to be collected and sold. Some have their strings still on them, but I prefer them without. I have found several colours but the green are probably the prettiest, they are the colour of the ocean. I can not recall where I found the picture above or I would give credit to the owner. I like the idea of keeping them out for Christmas decorations with candles. How pretty they are.
Here is a mixture of fish floats and other pretty glass balls. I used to have them all over the place but gathered them up last Christmas and just kept them that way.
These are mainly fish floats and the small ones are sitting in a piece of glass that Danielle brought back from Venice
My biggest fish float on top of a cupboard.
I love this one it has the bubbles in the glass and is thick glass worn by the sea.
This one is thinner you can see that it may not be authentic.