Above is a Kingfisher. His colour gleams in the sun and all one sees is a flash of light as he dives for a fish. Nature comes up with some wonderful colour schemes. I believe that God created them for our pleasure and His own. If there were no God then I am positive everything would be black and white. Beautiful as it is, black and white would be boring if it was the only choice. So here are a few pretty birds in blue. The Eastern BlueBird and Indigo Bunting are about the same colour blue, but the Bunting is pure blue.
Blue birds seem to have an angry expression all the time. That makes them look so cute.
Then we have the Peacock in all its glory. In England a lot of country homes have Peacocks in their gardens. The sound of their voice is distinct.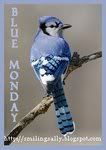 I will be sharing this post with Blue Monday. Thank you
Smiling Sally
for hosting.