I love fairies and they go so well with the blue butterfly's. Blue is the colour of the sky, of flowers and birds. It is the pure colour of nature. This Fairy has the things of nature in her hair.
Forget-me-nots and bluebells with a pretty fairy............how blue is that.....beautiful
I am linking this post with Blue Monday.......click on the Blue Jay and he will take you there.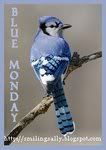 I am also linking this with
Little Red House for Mosaic Monday