This is a simple little Spring or summer purse that I made. No pattern needed. Its not too big so not intended for carrying everything we own. Its light and easy. I am making one for my Granddaughter Reina who wants one and when done I will post it on here. I am going to make several and have fun with the fabric and decorations. It a good way to use up all those Fat Quarters that I have collected. I intend to use some patterns as well and make other bags. I just wanted to try this first.
I pretty much made this up as I went along, so should do better next time. I did French seams so that they are stronger. I also put the handles on and then stitched the fabric across them as a contrast that also strengthened the handles. I was quite happy with how it worked out. Next one I will put a pocket inside I think and maybe make it a bit bigger. Although this one is really the ideal size especially if it had compartments.
Linking with Creative Blog........
Also linking with Ninth street Notions for "Make it Monday"
Also sharing on CraftOmaniac Monday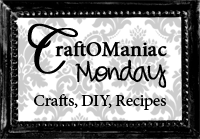 Linking with The Stuff of Success