Where we live here in Northern Michigan, one of the fun things we get to do is to search the beaches for Petoskey Stones. This one I found at a building site. A Petoskey stone is a long dead coral that lived in Lake Michigan, unique to our area. It shows that the water was once much higher and inland. There are many sea corals and fossils in our soil here. When we walk the beaches we always have our heads down looking looking looking for the illusive Petoskey stone. It also is a knack. It becomes easier once you find your first one. Why the fuss? Well when polished it is quite pretty and as its so rare it is becoming valuable.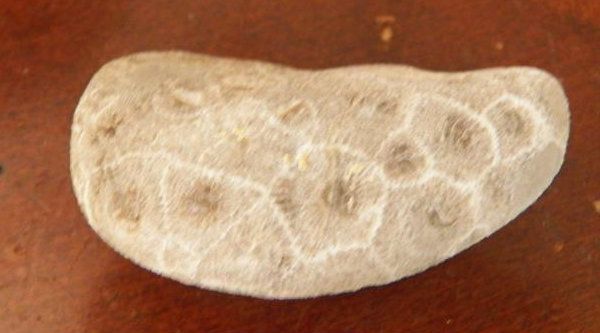 When walking on the beach this is what you may often see. It takes just a little getting used to but once your spot your first one it does get easier.
Often its easy to find them when they are dry.............
When polished they all look different.
Some are really worn because they are soft, the wash of the waves rolling them on the beach will wear them down. They are all unique in design and can be made into jewelry and many other things. Find a big one and it becomes worth a little bit. They are becoming more rare each year.
A lot of local craft people have made jewelry, usually silver. Clocks and other things are common and pretty for tourists to pick up as a real souvenir.
Certainly not made in China..............so if you come to Michigan, to where I live this is a fun thing to do. You will see people walking on beaches with noses down and now you know why.