Laura took me to my Thrift shop the other day. They have a name for me there. I am the Tea cup lady. Hmmmmmm. Is it bad that they know me there? Well naturally I found a few things. I forgot to take pictures at the time and cant remember all I bought. Oh I did find a coat rack, a stand up one for 25.00. That will be great when the entrance is finished. Anyway, I spent just over 100 dollars so I must have got something. I bought a couple of things for Laura but apart from that it was all mine.
First off this lovely crystal bowl. It's either crystal or good cut glass, not sure.
Then the flower vase. I bought two of those. One was a cheap one, I could tell but this one, this was beautiful. It's heavy and is probably cut glass.
The cheaper one is going to be used in a garden ornament. I also found a crystal box, it has a snowflake design on the top. I need another glass box like I need a glass eye.
I found this vase, the colours seem right for the garden. Now to find something to do with it..........
One of these days my dining table will be clear of all this. (yea and then my sewing stuff will be out) ..... These necklaces are 1.99 each and come with earrings. I bought them for the beads. I will use them in projects.
There is another that I bought that was made of butterfly, I will use that in a project too.
Well on to my projects for this week. I am making a garden ornament. I had put the top together from the last plates I found.
I added the dragon fly that had broken off something else. I had been waiting for a base. The flower vase from this week and a glass dish from this time put together was just the ticket. The earrings that came with the beads added something because I had already decided to hang the glass ball. I quite like the results.
This is the end project
This vase I got because it would fill a space on my bookshelf.
I can't think of anything else. Usually I keep the stuff out and take pictures but this time I forgot. I could spend a fortune in there, and it occurs to me I could buy stuff cheaper but I love to be creative and also the money goes to a good cause. Will I go back this week. I dont know yet. I do need a few plates to finish up some projects but I need to keep my spending more under control
I am sharing with
Ivy and elephants
Also sharing with
create with joy inspire me Monday
Linking with
Sir thrift a lot
also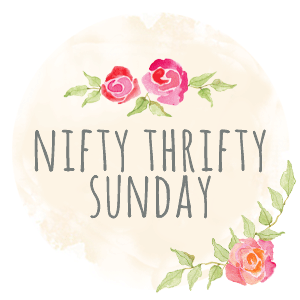 linking with
Sugar bee crafts Take a Look Tuesday
sharing with
from my front porch to yours